Announcement
Fall Ball Registration Announcement
More editing options
(Updated 8/7/2019)
The 2019 Fall Ball announcement has been emailed on Wednesday, Aug 7. First day of registration will be Friday, Aug 9 (the earliest postmark accepted). To learn about our Fall Baseball program, please review the information we have posted in the Fall Ball link located in the menu bar above.
If you did not receive the Fall Ball Registration email announcement, please check your SPAM folder. If you are unable to find the email, please send your email address to subscribe@mvll.org and we'll see you are on our mailing list.
Registration is done by U.S. Mail. Because we are limited by the number of players for 4 teams (2 major and 2 minor divisions), using the letter's postmark is the best way to determine the order of signups. Players must be between the baseball ages of 8 to 11 to participate (see chart below).
Link to Fall Ball Announcement Flyer
Link to Fall Ball Registration Form
Last year, registration was completed in 5 days so get the registration form and payment mailed on Friday. We will waitlist a few registrations after teams are filled. After school begins, some will discover schedule conflicts and choose to withdraw.
Registration Instructions:
1. Download the Fall Ball Registration form in PDF to your computer. Save the form before completing.
2a. Open the PDF, complete, and save. Print and Sign. OR
2b. Print the PDF, complete by hand, and sign.
3. Mail the completed form with payment (check or money order, no cash) to MVLL, POB 614, Mtn View, CA 94042. Forms without payment included will be returned.
Note – Registration is only accepted by USPS mail. There are no in-person signup events for Fall Ball. Additional information about Fall Baseball is on our website at mvll.org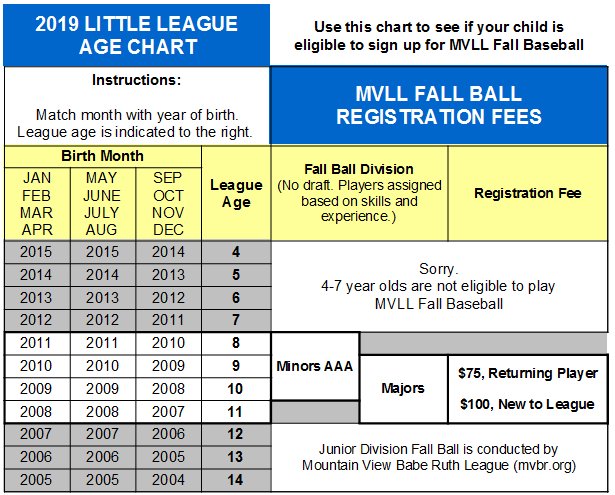 If you have any questions, please email fallball@mvll.org.