Announcement
New Bat Rule 2018
Posted by
Lew Lee
on Dec 24 2017 at 04:00PM PST in MVLL Baseball 2019
More editing options
Little League Bat Resource Page LINK
As of January 1, 2018, the new USA Baseball Bat Standard are implemented.
Little League-approved baseball bats that were in use during the 2017 season will no longer be acceptable for use in any Little League game or activity starting on January 1, 2018.

APPROVED BATS MUST BE USED IN ALL LITTLE LEAGUE ACTIVITIES.
IF IT'S NOT APPROVED, IT CAN'T BE USED.
Bats having the USA Baseball Bat marking are now available for purchase from retailers.
Tee Ball bats will not be manufactured with a logo. MVLL will inspect Tee Ball bats used in the league and affix a sticker. Watch for our bat certification event announcements.

Little League International has assembled an online resource page dedicated to baseball bat information. Click
here
to find the latest bat information, including the current Little League Baseball rules and regulations governing bats, definition of terms, the moratorium on the use of composite bats, and a series of frequently asked questions, with answers and licensed bat lists.
T-Ball Bats -
Starting on January 1, 2018, all Tee Ball bats in the Little League Baseball Tee Ball program must feature the USA Baseball mark and accompanying text.
Tee Ball bats that were produced and/or purchased prior to the implementation of the new standard can be certified using an Approved Tee Ball Sticker
via the USA Baseball Tee Ball Sticker Program for use with approved Tee Ball baseballs for Little League play. [DO NOT purchase stickers. MVLL will have bat inspection events to affix stickers before the start of 2018 season practices and games.]
Rookie, Farm, Minors, and Majors Bats -
2017: BPF 1.15 marking/ 2-1/4 inch barrel maximum
2018: USA Baseball marking, 2-5/8 inch barrel maximum
Juniors Bats -
2017: BPF 1.15 marking/ 2-1/4 inch barrel maximum
1) 2-1/4 inch alloy/metal barrel with BPF stamp of 1.15
2) 2-5/8 inch alloy/metal barrel (no marking required)
3) 2-5/8 inch composite barrel with BBCOR stamp
2018:
USA Baseball marking,
2 5/8" barrel maximum, and
NO BBCOR ALLOWED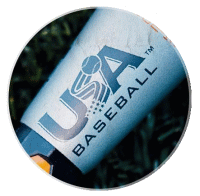 Comments
There are no comments for this announcement.