Announcement
Blue Angels Talk on Teamwork, Wed, Oct 4 at 5 PM
Posted by
Lew Lee
on Sep 16 2017 at 05:00PM PDT in MVLL Baseball 2019
More editing options
Join us on Wednesday, October 4 from 5 to 6:15 PM at Mountain View's
Shoreline Athletic Fields
to hear a talk on teamwork from the U.S. Navy's premier aviation demonstration team, the
Blue Angels
. Speaking to us will be the Blue Angels Commanding Officer/Flight Leader CAPT Ryan Bernacchi, USN. (Presentation is 45 minutes plus 30 minutes for Q&A.)
Captain Ryan Bernacchi is a native of Los Altos, California and graduated from Mountain View High School in 1992, where he lettered in water polo and swimming. He attended the University of California, San Diego, and graduated with a Bachelor of Arts in Anthropology through the Naval Reserve Officer Training Corps in 1996, and was commissioned an Ensign in the U.S. Navy.
Captain Bernacchi joined the Blue Angels in September 2015. He has accumulated more than 3,000 flight hours and 600 carrier-arrested landings, and is a graduate of the U.S. Navy Fighter Weapons School (TOPGUN), NAS Fallon, Nevada. After graduating, he joined the TOPGUN staff as an instructor pilot and served as the Navy and Marine Corps subject matter expert in GPS guided weapons. Ryan served as a Federal Executive Fellow at the Massachusetts Institute of Technology, Cambridge, Massachusetts. His decorations include the Meritorious Service Medal, one Individual Air Medal with Combat "V" (three Strike Flight), four Navy Commendation Medals, one with Combat "V," and numerous unit, campaign, and service awards.
The Captain very recently received his promotion on September 5, 2017. Congratulations, Captain! His extensive biography can be found
here
.
Our Captain knows a thing or two about teamwork. In his words, "Our mission is to represent the Pride and Professionalism of the Navy and Marine Corps, and to inspire a Culture of Excellence and Service to Country. Blue Angels have been proudly performing this mission since 1946. This year marks our 71st season and once again, our Team of 130 Sailors and Marines have trained incredibly hard and are privileged to showcase our teamwork and precision as we travel throughout this great country. The men and women who comprise the Blue Angels bring the technical expertise and experience they gained serving the Navy and Marine Corps fleet, and proudly represent the same values, skill, and dedication of those serving around the globe."
Please make the effort to join us, bring along a friend, your family, your young ones to hear Captain Ryan Bernacchi, our "local-kid-does-good", talk about what it really takes to make, nurture, and be a part of one of our nation's greatest teams. (RSVP link is below.)
San Francisco Fleet Week Airshows on Sat & Sun, Oct 7 & 8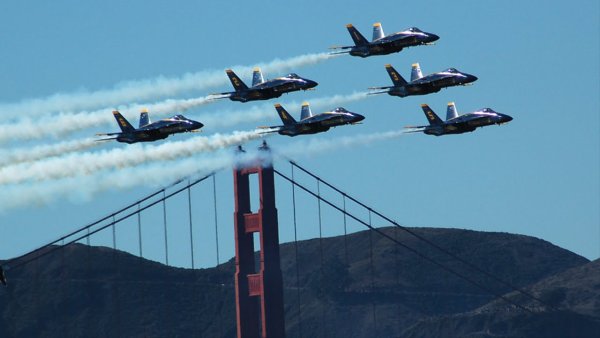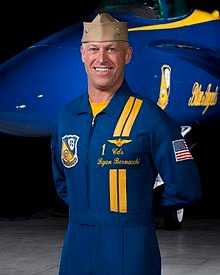 Comments
There are no comments for this announcement.